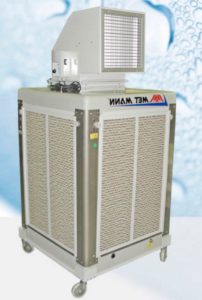 Portable air cooler 4,200-15,000 m3/h-FRESC MANN PREMIUM SERIES
Portable air cooler of the series are teams FRESC PREMIUM centrifugal fan air cooling MANN ideal for any commercial, industrial or agricultural premises.
Features:
Out front air intake grid or double deflection air diffuser 8 outputs.
-Electrical panel built of 1 speed or frequency converter for regulating air flow.
-Group fan with built-in motor or transmission by model.
-Corrosive casing bearings with protective caps included (FR-12/15/09).
-Rigid frame made of thick polyamide.
-Poles butt plate made of stainless steel AISI-304.
-Panels of high performance coolers with protection grids made of galvanized steel painted with baked polyester paint.
-Nylon wheels for easy transport.
-Includes 25 m hose with fast plug.
-Manual self-emptying hoppers system with anti-corrosive valve.
-Water pump long lasting.
Airflow: 4,200-15,000 m3/h
Air outlet: top air grille double deflection.