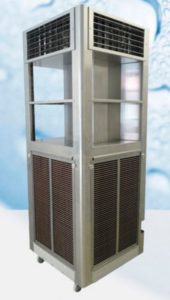 Outdoor cooler with infrared lamp 1.200-5.000 m3/h – DESIGN COOLER PREMIUM SERIES
DESIGN COOLER outdoor coolers are a solution for heating of open and closed areas.
The team produces cool air in summer and warm in winter with instant infrared lamps, thereby obtaining a totally versatile for indoor or outdoor air conditioning equipment.
Features:
– Exit from perimeter air vents double deflection.
– Electric panel with air flow regulator.
– External rotor centrifugal fan Low noise.
– External structure with water tray thick polyamide.
– Poles butt of stainless steel AISI-314.
– Panels of high performance coolers with metal grille painted in gray.
– Nylon wheels for easy transport.
– Quick connection system water network.
– Manual emptying system.
– Ability to supply cooling equipment alone or with 1,2 or 3 infrared lamps.
Airflow: 1200-5000 m3 / h
Heat output: Infrared lamps 2,000 W