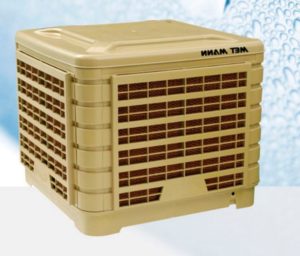 Ducted Evaporative Air Cooler 16,000 to 30,000 m3/h-SERIES ECO COOLER
Ducted Evaporative Air Coolers series ECO are equipment with axial fan for cooling air any commercial, industrial or agricultural premises.
Characteristics:
-Structure resistant to ultraviolet rays and at temperatures of-42° C to + 96° C plastic.
-Axial fan 16 speed (EC-18) or 2-speed (EC-30) with driving function or extraction.
-Panel 100 mm thick cooler with protective grille and anti insect mesh (EC-18) and 120 mm panel with protection grid (EC-30).
-Patented cleaning panels.
Self-emptying hoppers programmable water to prevent the formation of micro organisms.
-Pre cooling panels before starting the fan.
-Remote controlled temperature and humidity Multifunction.
-Time programming.
-Water inlet solenoid valve opening and closing mechanical buoy.
-Water pump long lasting.
Equipment-reduced weight for easy installation.
Airflow: 16000-30000 m3/h
Air vent: Bottom, side or top