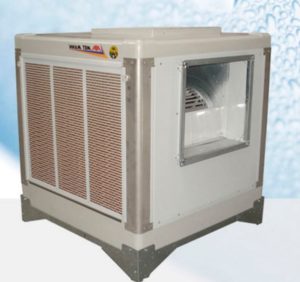 Evaporative cooler 5500-15000 m3/h-AD SMALL PREMIUM SERIES
Evaporative air coolers series PREMIUM AD SMALL are teams with centrifugal fan for cooling air any commercial, industrial or agricultural premises.
Main characteristics:
-Rigid frame made of thick polyamide and enervated inside.
– Poles butt plate made of stainless steel AISI-304.
– Panels high efficiency chiller protection grilles, made of galvanized steel and painted with baked polyester paint.
– Group centrifugal fan in galvanized steel.
– High-efficiency fan motor.
– Protective caps to prevent oxidation of the bearings.
– Base Bench with legs for easy transport and installation.
– Automatic flushing system patented by MET MANN.
– Continuous drainage to prevent the concentration of mineral salts.
– Fast opening of panels with half-turn fasteners.
– Possibility to supply the protective grids of the panels in stainless steel AISI-304.
– On request we can supply the equipment with air filters, motor and fan anti explosive, etc.
Airflow:
5500-15000 m3 / h
Air outlet: Bottom, side or top
Available pressure 57-128 Pa